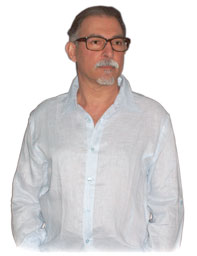 …About the Designer & His Collection…
Marc Richardson is a gifted craftsman who designs and build elegant, functional, limited-edition furniture. His work is in the hands of discriminating private and corporate collectors in Canada, the United States, Japan, France, Holland, Greece and Australia, collectors who appreciate the difference between hand-crafted pieces and machine-made manufactured furniture.
For some twenty years now, Marc Richardson has been creating individual pieces and groupings to meet each client's specific needs. Whether for your home, office, or boardroom, his work will illustrate your refinement, elicit admiration from your visitors, and be a definitive statement in the environment you have created around you.
His work is influenced by years spent in Japan, by Frank Lloyd Wright and by the American Arts &Crafts movement. Each piece is created to meet both functional needs and sensory pleasures – to please the eye, to please the touch, and to provide pleasure and comfort to the human form. Made of solid domestic and exotic woods, they are built to last, and will preserve their beauty for generations to come.
« In its purest sense, oriental design is defined by simplicity : strong contouring, clean lines and timeless styling. I choose to interpret it through the crafting of wood, because of its natural properties and beauty : each piece of wood is like the fingerprint of a human being – no two pieces are alike. My pleasure is in selecting the wood which will best reflect the clients' taste and needs. »
He frequently collaborates with interior designers and architects on a variety of projects, and produces his own designs or transforms their rough sketches into detailed working plans Marc Richardson operates an extremely efficient studio and workshop, He recognizes the importance of developing good relationships, and works closely with each client to ensure their full satisfaction. He studied Fine Arts at Dawson College in Montreal, Design at the Ontario College of Art, and Furniture Design at Humber College. For over twenty years now, he has been creating furniture which commands respect in any setting.